How to debate?
One of the most important differences between debating and arguing, is that debate follows a set of rules that have been agreed upon beforehand. The main goal for those rules is that they grant equal conditions and opportunities for both sides. They also specify, what the debate is going to be about.
It is possible to debate according to different rules that vary in the number of teams, number of team members, speech times, motions, judging criteria etc. The set of rules describing one particular way of debating is called a debate format.

There are a number of debate formats in the world, each one suitable for a particular purpose and set of circumstances. Most widespread formats in Estonia are the Karl Popper debate format and the British Parliamentary debate format. The first one involves two teams with three speakers each and is practiced mostly in high-schools, while the second has four teams with two speakers each and is more common in universities.

To find out debate formats, you can follow this off-site link to the website of IDEA, our international umbrella organisation.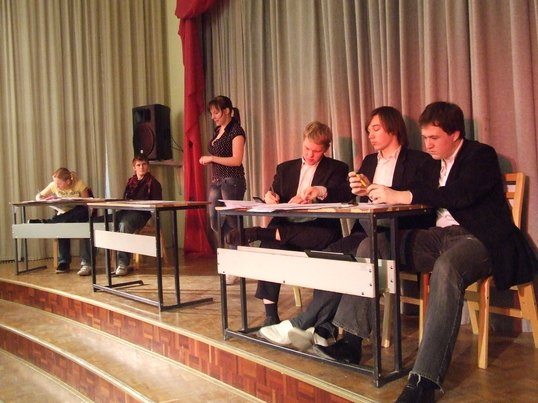 PHOTO: Two teams of students engaged in a typical Karl Popper format debate round. Young lady in the middle is delivering her speech.